Equally important for your bathroom is the choice of shower tray. At Gevo you will find a large selection of shower trays in terms of material, dimensions and price. A key factor to consider in choosing the right product is the functional and aesthetic harmonisation with the surrounding area.
In all our showrooms you may find square, rectangular or semi-circular shower trays. Made of fireclay, acrylic or solid surface in various dimensions and thicknesses from 3mm to 6mm. Built-in systems and technologies are also available.
Fireclay: The material offers good resistance to chemicals, to friction and is easy to clean. Available in heights of 6-12cm.
Acrylic: Shower trays in this class are available in heights of 3.5 cm and 7.5cm, they have a porous-free surface, they are impact resistant and easy to clean.
Solid surface material: Made of a homogenous mixture offering a stone look and texture. Very flexible in design, size,and colour, the material also offers good impact resistance and any scratches can even be repaired in situ.
Built-in (custom-made): A built-in shower is a beautiful idea for every stylish bathroom. It is even more useful for small bathrooms with a shower. At GEVO, you will find a wide variety of drainage systems (square or linear) with various grating options. A built-in shower provides comfort, functionality, and excellent aesthetic result. It can be done in any shape and size, covered with tiles from a huge variety. It is very important that proper waterproofing and appropriate adhesives are used. Here again, GEVO engineers are at your disposal to offer the best possible solution.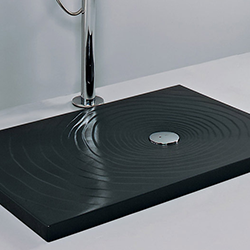 Porcelain (fireclay) Shower Trays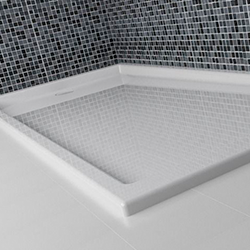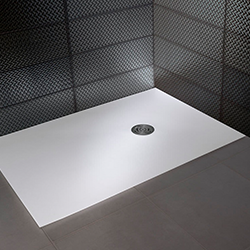 Solid Surface Shower Trays